Iris Study
This quilt was inspired by a photo of an iris taken by Marianne Phillips, the patron who commissioned this quilt. The larger flower petals were composed of smaller bits of fabric which were fused. The petals were then put together and quilted to a background. Fabric paints and Tsukineko inks were used for the veins and highlighting.
33" X 39"
2007
Tallit (prayer shawl)
Design was made in partnership with the bar mitzvah. Hand dyed silk noile, machine appliqued and couched, Hand cording and hand applique.
2014
Dawn Redwood
Commercial cottons, batiks, paint sticks, Caran d'Ache watercolor crayons, metallic paint, satin, tulle, and a cotton duck foundation. Fused fabric petals form the sky with heavy threadpainting creating the tree and shadow. The satin snow is lightly painted with oil sticks and metallic fabric paint.
28" x 34"
2009
Hidden Treasures
Includes tulle, wool roving, sheers, cottons, silk, leather, synthetic fabrics, yarn, ribbon, beads, findings and jewelry, shells, angelina fibers. Methods used include machine pieced, machine and hand appliquéd, dyed and painted fabrics, couched yarns, soldered fabrics. Free motion quilted.
46" x 48"
2010
Serenity
Reverse appliqué, surface appliqué, gold lame, silk, oil stick, hand dyed ribbon and beads. Machine quilted.
24" X 36"
2006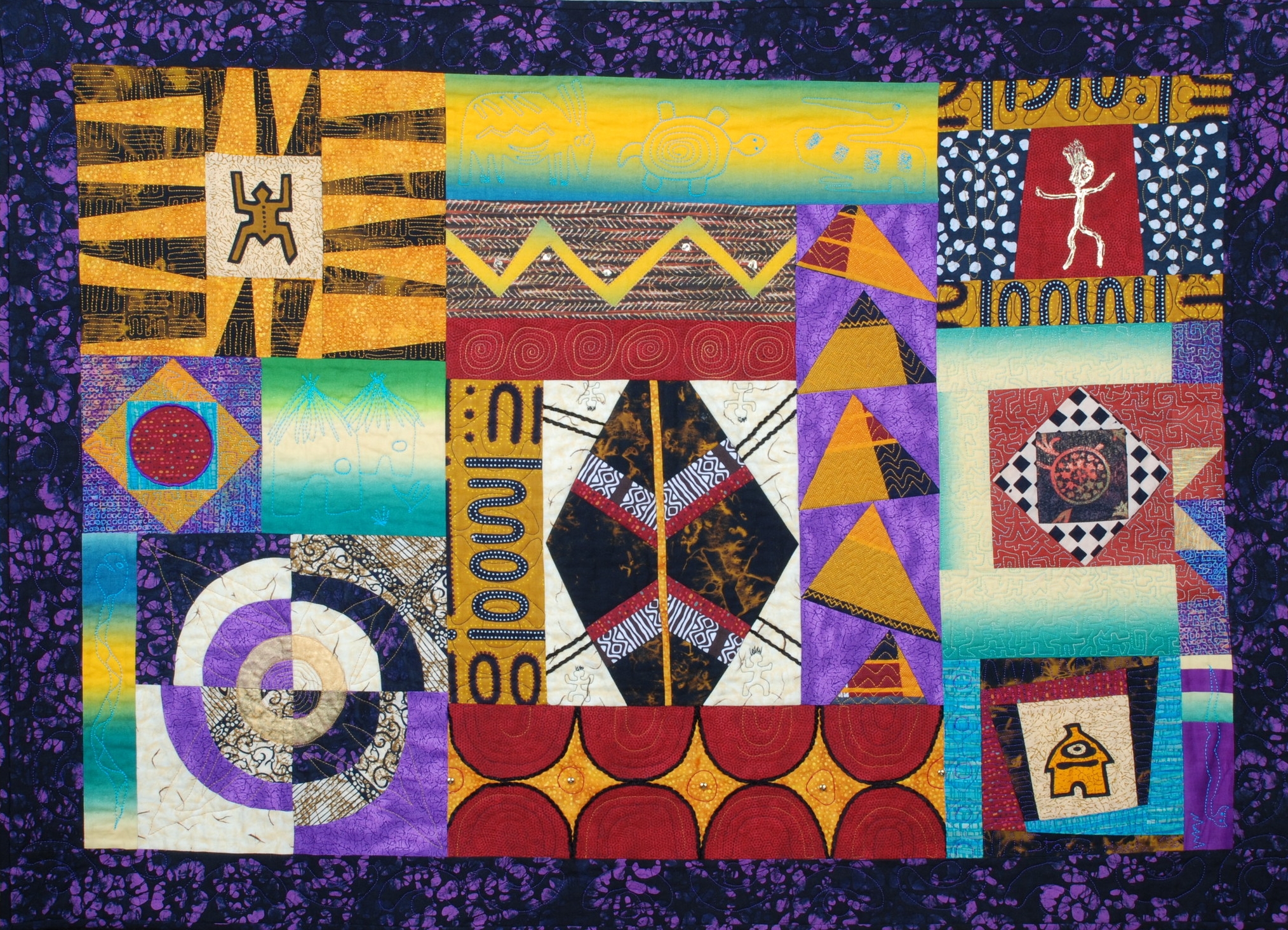 African Vista
Made with African Mud Cloth, batiks, and commercial fabrics. Embellished with beads, gold transfer foil, gold pigment over adhesive, couched chenille, and machine quilted.
30" X 42"
2005